About Us

SCHWING Stetter (India) Pvt. Ltd. is a part of the Schwing Group of companies GmbH that was started in the year 1998. We are a popular manufacturer and supplier of Mobile Batching Plant, Concrete Machinery, Construction Machinery, Road Machinery, etc. We are also popular for our ethical business policies that are framed keeping in mind various expectations of customers. We have touched the heights of success today on the basis of quality and have become exemplary for many companies by meeting 100% customer satisfaction in all our business deals. To know more about our company or to have business deals with us, do contact us on the provided number, and we will be happy to assist you with your queries.

Our Board of Directors


Mr. V. G. Sakthikumar- Managing Director
Mr. A. R. Subramanian- Executive Director
Dr. Gunther Abolins- Non-Executive Vice Chairman
Mr. Sha Xianliang- Non-Executive Director


Our Quality Policy


Via the quality of our products and services, we aim to attain the satisfaction of the customer and for this we follow international quality standards.
We strive to maintain our status as a market leader and become a trend-setter by following the best engineering practices in our company.
We provide a friendly working atmosphere that is clean and green as well.
We work to upgrade the professional skills, boost employee confidence and value system, thereby, improving the overall quality of our offered products and services.


Our Mission

The mission of our company is to be the best in the eyes of not only our customers but employees and shareholders also. Further, our company wants to be a trend-setter in the field of engineering via our innovative and operator friendly range of products including Concrete Machinery, Mobile Batching Plant, Road Machinery, Construction Machinery, etc.

Our Values


We never compromise on the safety of our employees and implement the best step for the same.
We respect our customers and make sure to follow ethical business policies while dealing with them.
All the international and national standards are being followed in our organization which under no circumstance are given a cold shoulder.
We offer reliable after-sales service, repair & maintenance services and a product range that is worth the money of our customers.
We stay committed to corporate social responsibility and implement innovative policies with respect to the same.


Our Vision

The vision of our company is to be a partner with our customers in building New India with our quality range of products such as, Mobile Batching Plant, Concrete Machinery, Construction Machinery, Road Machinery, etc. Besides this, we aim to provide world-class construction equipment at reasonable rates and provide quick customer support as well.

Corporate Governance

We have framed the best policies in our organization which have enabled us to set an example in the respective industry. Some of the policies followed by us includes:

Whistle Blower Policy
CSR Policy
Anti Bribery Clause
POSH Circular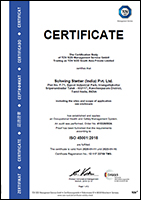 Read More